Veg4Health Newsletter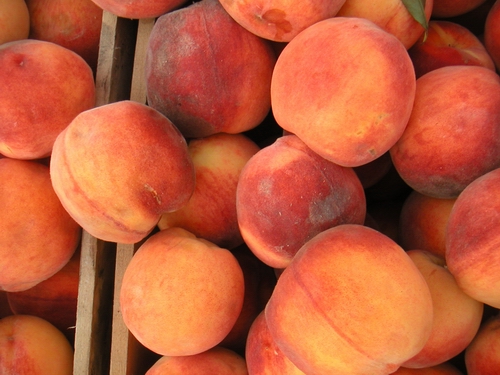 Focus on Peaches
Peach season is right around the corner. Okay, it has already sprung forth but the best is yet to come. Although we live in Florida , we anticipate Georgia peach season more than we do our own citrus season. Georgia peaches are our favorite - although we do thoroughly enjoy California and New Jersey varieties. I think it may be that we typically find Georgia peaches earlier than the others, and we get hooked on their special taste. We love to eat peaches in a variety of ways, but our two favorite ways are in peach sorbet and peach cobbler. When I don't feel like heating up the kitchen to make an out of this world cobbler, I head straight for my Vita Mix and throw together a frozen peach sorbet. The smooth and sweet taste of sweet peaches, frozen into a slurry of all that is cold and good, is a wonderful treat. I simply combine 4 fresh diced peaches, some sugar, a hint of vanilla flavoring and a couple of cups of ice. I blend on high for approximately 1 minute, or until the sorbet is thick and frozen. Nothing cools down a hot summer day like a fresh sorbet. Click here for my peach cobbler recipe.
---
Fast meal ideas
for people
on the go!
Life is hectic and busy for all of us and eating healthy foods often takes a back seat to convenience. It doesn't have to be that way. It's easy to get a healthy meal on the table in only a few minutes by keeping a few basic ingredients in your pantry and refrigerator. Try some of these ideas for those nights when things haven't gone as planned, everybody is hungry and no one feels like cooking.
Top a frozen pizza with extra tomatoes, peppers, onions, mushrooms and broccoli .
Top a baked potato with veggie chili or sautéed veggies for a super meal .
Add Italian dressing to leftover cold veggies for a quick salad. Add cooked whole wheat pasta to make it go even further.
Heat some fat free refried beans. Add salsa and corn and roll in a whole grain tortilla.
Welcome to my kitchen!
Fresh and tasty cantaloupes, watermelons, peaches, strawberries and blueberries are beginning to grace our tables again and we are beginning to consume large quantities of wonderful fruit. Life never seems as sweet as it does right now when our side dishes and desert trays are filled to overflowing with fresh fruit!
---
Here are some great tips for selecting fresh peaches. It may take some practice to pick the perfect peaches, but even those that aren't perfect can still be used in a variety of recipes. We love to take peaches that are too soft or have too many bruises to eat and use them in peach cobbler.
Conversion Tips
I hate to have to figure out how many peaches to use in a recipe. Some recipes give the number of peaches, some give the number of cups and some give the number of pounds. The best rule of thumb is 3 medium sized peaches is equivalent to approximately 1 pound of peaches. This also equates to approximately 2 cups of sliced peaches.